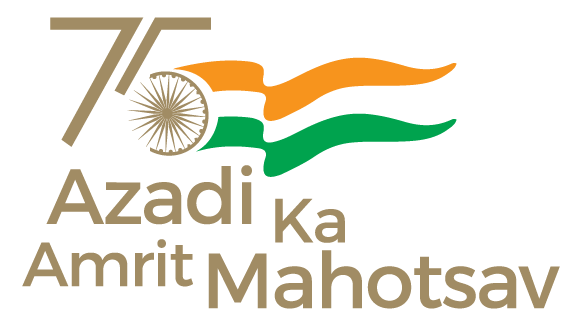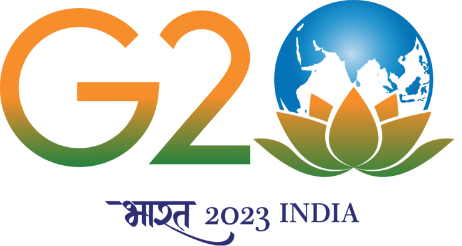 GRAND CULTURAL PRESENTATION DURING PRIME MINISTER'S  INAUGURATION OF INTERNATIONAL CONVENTION CENTRE 'BHARAT   MANDAPAM' AT PRAGATI MAIDAN
ENTHRALLING PERFORMANCE IN THE SPIRIT OF EK BHARAT SHRESHTHA BHARAT LEAVE THE AUDIENCE SPELLBOUND
The Prime Minister Shri Narendra Modi inaugurated the International Convention Centre ' Bharat Mandapam' at Pragati Maidan on 26 July 2023. On this occasion, the Ministry of Culture, through its Sangeet Natak Akademi and the Zonal Cultural Centres presented a bouquet of cultural programmes with  participation of around 1250 artists from across the nation. Performances involving traditional musical instruments Nadaswaram, Thavil, Panchavadyam, Chenda, Dappu, Lezim, Nashik Dhol, Gujarat Dhol, Chattri, Dhak Dhol, Nagara, Shankh, and Ghanta, etc.  formed part of the welcome performances and brought out the spirit of Ek Bharat Shreshtha Bharat. More than 300 schoolchildren from Vidya Bharti sang "Ananda Loke" of Rabindranath Tagore as part of the Foyer performances. The stage performances enthralled the audience and included Dhrupad by Sammit Mallik and group; a confluence of Indian classical dances – Bharatnatyam, Kathak, Kuchipudi and Odishi; Siddhi Dhamal; Dholu Kunita; Bihu; Baredi; Odishi dance by Padmashree Madhavi Mudgal and group; mask dance (Purulia Chhau); and Kathak by repertory artists and students of Kathak Kendra.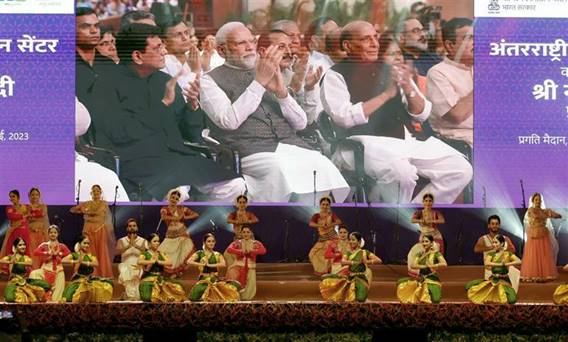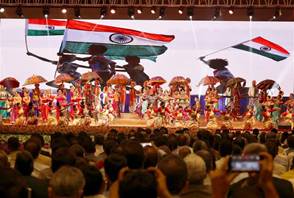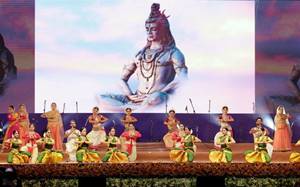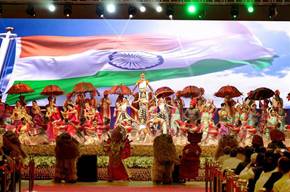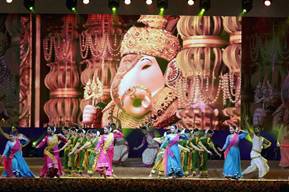 There was an enervating  fifteen-minute performance 'Ojasvi' before the Prime Minister presenting choreographic dance presentation on the music of Shankar Mahadevan & Ricky Kej – Surya , Ganesha and Nataraja incorporating Chhau, Kathak, Odisshi, Bharatanatyam and contemporary dance forms by Santosh Nair and his Sadya group from Delhi.  'Dhanya Bharatam' song in Hindi language rendered in the Powada or Marathi folk singing style by Shri Nandesh Vatsala Vitthal Umap( Sangeet Natak Akademi Yuva awardee) accompanied by about 20 dancers representing various folk and major performing art forms imbued everybody with a sense of patriotism.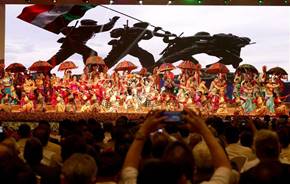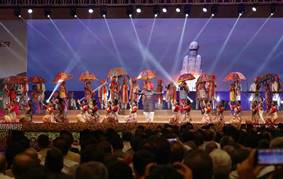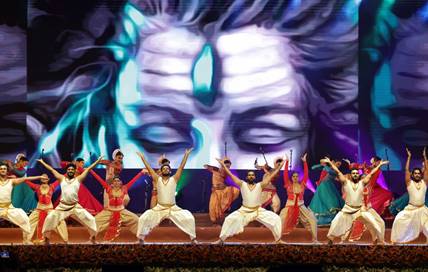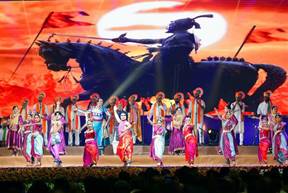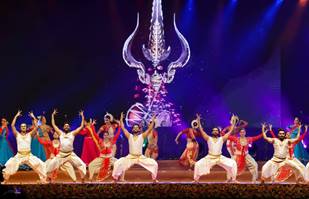 There were also about 28 spot performances featuring various folk and tribal art forms of the country creating  a carnival- like atmosphere all around the Bharat Mandapam.
Earlier,  in the morning there was a flute ensemble  after the havan rendered  by Shri Chetan Joshi, Sangeet Natak Akademi awardee, and his group which  set the tone for the day's events. Around 150 of the invited artists  attended the havan.
Delhi Bureau: Virendra Mishra